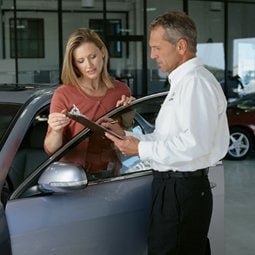 Ford toughness is famous around the world. Drivers everywhere know that if a vehicle has the Ford nameplate, it will last for years without giving a single complaint. However, while Ford vehicles are tough, they are not invincible; even the toughest Ford still needs its oil changed and its tires rotated. That's why we have our Ford service center here in Park Ford of Mahopac Inc. Not only will we help you find your dream Ford vehicle, we will even help you keep it running.
The easiest way to keep your vehicle running smoothly is by having regular auto service performed. Regular maintenance will fix small problems before they turn into big ones. Not only does auto service help out your car, it even helps out your wallet. After all, it's a lot cheaper to change your oil than it is to replace your engine. We believe in providing the best possible service here at Park Ford of Mahopac Inc. Our service technicians know their way around everything Ford, and we even make sure to use only authentic OEM Ford parts, so you know you are always getting the best possible care inside and out. If you have been looking for quality Ford service in the Yorktown Heights, Brewster, Carmel, or Somers area, your search is over; we are here to help.
At Park Ford of Mahopac Inc, scheduling an appointment has never been easier. Our online service form lets you easily pick the service you're looking for, and lets you select the time that works best for you. If you prefer a more personal touch, give us a call at (888) 683-2618, fill out an online form, or visit us in person here in Mahopac, NY. We are proud to be your one-stop-shop for everything Ford, and we can't wait to help you out.