Bring your
Ford

vehicle to our service center in Mahopac for scheduled maintenance and repairs!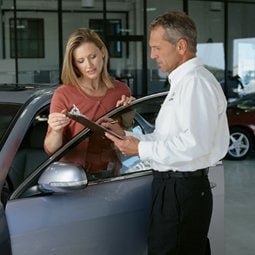 Buying or leasing a new Ford at our Mahopac dealership is an exciting commitment, and we want you to get the most out of it! That means it's crucial that you come back to our dealership for regular service and maintenance. By keeping up with Ford's maintenance schedule and/or not letting a dash light stay on for too long as your drive around Yorktown Heights or Caramel NY, there's a better chance you can get ahead of a problem before it becomes more expensive and challenging to fix.
Our service center techs are trained on Ford vehicles, so they know the inner workings of your vehicle like the back of their hands. Whether you're in for scheduled maintenance or you need a repair, they'll be able to assess your vehicle, take the right steps, and give it back in excellent condition.
Here are some common vehicle services:
Oil Change
Fluid and/or Filter Changes
Wiper Replacements
Battery Checks and Replacements
Brake Service
Tire Changeovers or Alignments
Timing Belts
If you do need a replacement piece, the service techs will work with the parts center to order a Genuine Ford Part or Accessory, and those help maintain the integrity of your vehicle. Plus, Genuine OEM parts last longer than cheaper aftermarket products.
Before you drive into our service center from Brewster NY or Somers NY, you can schedule an appointment using our online service scheduler. We also have service and parts coupons available, so check those out to see if you can save on your service or repair.
At Park Ford of Mahopac Inc., we were excited to sell you your Ford vehicle, and we're equally eager to help you maintain it. For more questions on vehicle repairs and upkeep, stop in today or contact our service center.