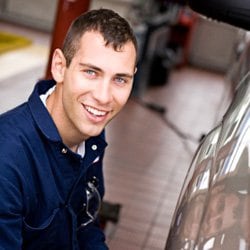 If you have been looking for Ford service near Yorktown Heights, or Ford parts near Brewster, you're in the right spot. At Park Ford of Mahopac Inc, we're here to help with everything Ford-related. We know that the best Ford vehicles deserve the best Ford parts, which is why we offer our extensive OEM inventory. When you need a replacement part for your Ford, you shouldn't have to settle. You could choose a third-party aftermarket part, in the hopes that it will be good enough and work with the rest of your car. You could also choose an authentic OEM Ford part, made in the same factory and designed to work in perfect unison with the rest of your vehicle. If you drive a Ford, it's clear that you refuse to settle for second best; you shouldn't have to settle for your parts either. With our extensive selection of parts, we're sure we have just the one you need, and if we don't have it, we'll order it for you.
If you prefer to do your own auto repairs, we understand. After all, there's nothing quite like working on your car with your own two hands. However, even if you prefer to do your own work, we can still help you out. Our parts request form will help you get your hands on the Ford parts you need. Once they arrive, we'll get in touch with you, and you can install them at your leisure. On the other hand, if you don't know a carburetor from a cup holder, we're here to help you out. Once your part arrives, we can install it for you in our service center. From Carmel to Somers, we're here to help every kind of driver.
If you have any questions, we have plenty of answers. Just give us a call at (888) 728-7482 to get in touch with one of our auto experts, fill out an online form, or come pay us a visit here in Mahopac, NY. We can't wait to meet you.